Haven History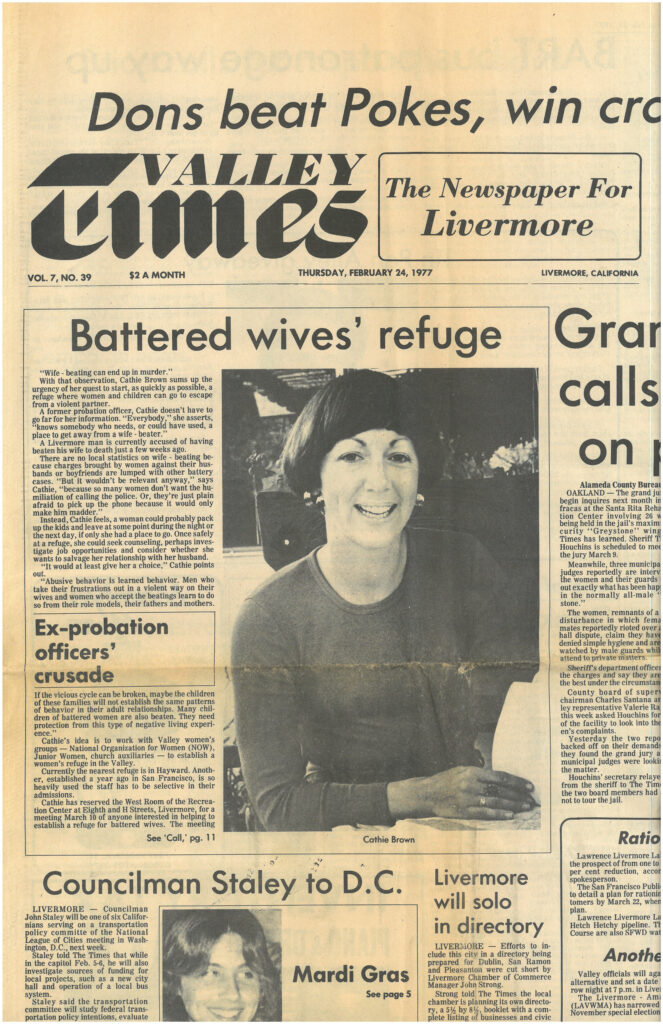 The idea started with Cathie Brown, a probation officer who saw domestic violence in her community and the effect it was having on the family system. She saw the need for a shelter, a refuge for women who had no where to go and no one to turn to. Cathie organized the first public health meeting at the Livermore Rec Center in March 1977, where members of various agencies participated. From this meeting, a board of directors emerged with representatives from CAPE, Parental Stress Service, The Emergency Fund Center, The Pleasanton Women's Junior Club as well as members from the community at large. In June 1977, Tri-Valley Haven for Women was incorporated as a non-profit tax exempt corporation.
Board members and volunteers answered crisis calls from their garages and homes. But just a crisis line was not enough, where do battered women find shelter? Some of them found temporary refuge in the homes of volunteers. The agency starting raising money to purchase a home – bake sales, garage sales, wine tastings, donation drives and public appeals allowed people to donate in small and big ways to make this shelter a reality. On March 20th 1978, it acquired a 6 bed facility to house survivors.
This was the beginning of a long and arduous journey, with bouts hopeless moments but also many glorious ones. There were many uncertain periods when the Haven almost went under. It struggled for funding, lost staff and there were times when there wasn't even enough money to buy copy paper. But through it all the Haven endured and triumphed, rising as a beacon of hope and progress, a way out.
Cathie Brown, Dawn Matheny, Nora Silver, Helen Meier and Ann King are just some of our unsung heroes who laid the foundation of this agency and upheld its mission and values. What started as a crisis call hotline over four decades ago, is today a stalwart community ally in the fight against Domestic Violence and Sexual Assault. We salute these women for their vision and wisdom and hope to carry the torch they lit so many years ago.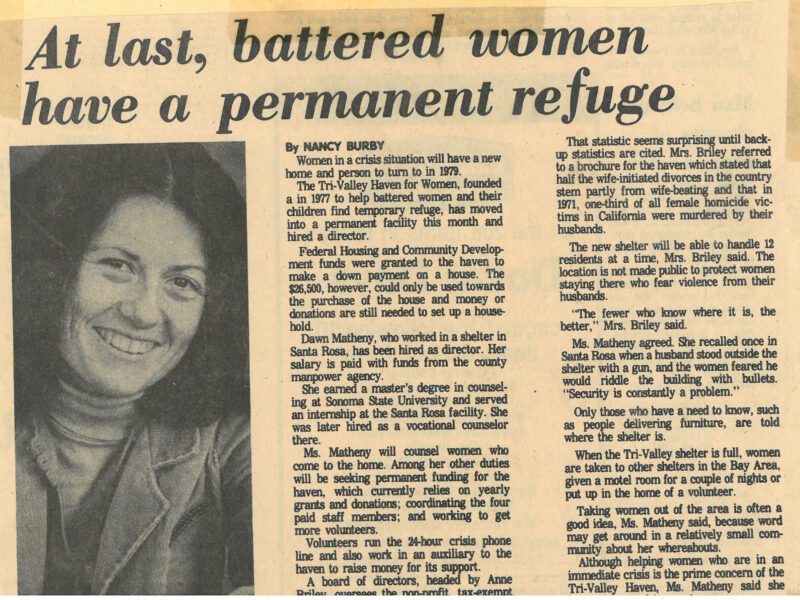 ---
Our Timeline
1977 — Tri-Valley Haven for Women was incorporated as a non-profit corporation in June of 1977. Volunteers were taking domestic violence survivors into their own homes for protection; a crisis line was answered by volunteers in a local activists' garage.
1978 — Doors to the Haven Shelter were opened to serve those fleeing domestic violence.
1981 — Rape Crisis Center opened for survivors of sexual assault.
1983 — Larger housing facility was purchased to help more people.
1991 — TVH Board commits to raising money to fund a community building for TVH.
1996 — Community Service Building completed and occupied in June.
1998 — Added Self-defense training to our services. First Family Faire for Domestic Violence Awareness Month held in Community Building parking lot in October, Domestic Violence Awareness Month. First Pace for Peace.
1999 — Started Legal Services Clinic for TRO services. Opened satellite office in Pleasanton. Obtained CalWORKs grant to assist DV victims to obtain job training.
2001 — SART services begin at Valley Care Medical Center. Alameda County, Livermore, Pleasanton and Dublin ask TVH to take over the Homeless Shelter and the Food Pantry.
2002 — 25th Anniversary! Acquired, renovated, and re-opened the homeless shelter in Livermore as Sojourner House! Homeless Services Program established to include Linkages, a subsidized housing program for families.
2003 — Renovations to expand office space and client facilities at the domestic violence shelter completed. Received funding to begin Every Child Counts program, a parenting support program. 2007 — 30th Anniversary! Implemented the Cultural Competency Plan focusing on survivors with disabilities, LGBTQ, women of color, immigrants, women of faith, older women and teens.
2013 – Took over the management of Thrift Store when Buenas Vidas Youth Ranch closed and gifted their store to TVH. PREA (Prison Rape Elimination Act) Services started providing crisis counseling and advocacy for male and female survivors of sexual harassment and assault incarcerated within Alameda County Santa Rita Jail and the Federal Correctional Institute, Dublin.
2016 – Program started through the Rape Crisis Center to serve victims of Human Sexual Trafficking in the Tri-Valley Area. TVH joins "Feed Tri-Valley," a partnership of local food providers combining strengths to impact local hunger and encourage residents to support local programs.
2017 – 40th Anniversary! TVH wins contract funds from Alameda County Probation to build capacity to offer services to people getting out of jail. Extensive renovations planned for the Community Building, Shiloh, and Sojourner House.
2018 TVH wins contracts for Domestic Violence Housing First and Domestic Violence Transitional Housing.
2020 TVH purchases another property to expand its transitional housing program that can house families.