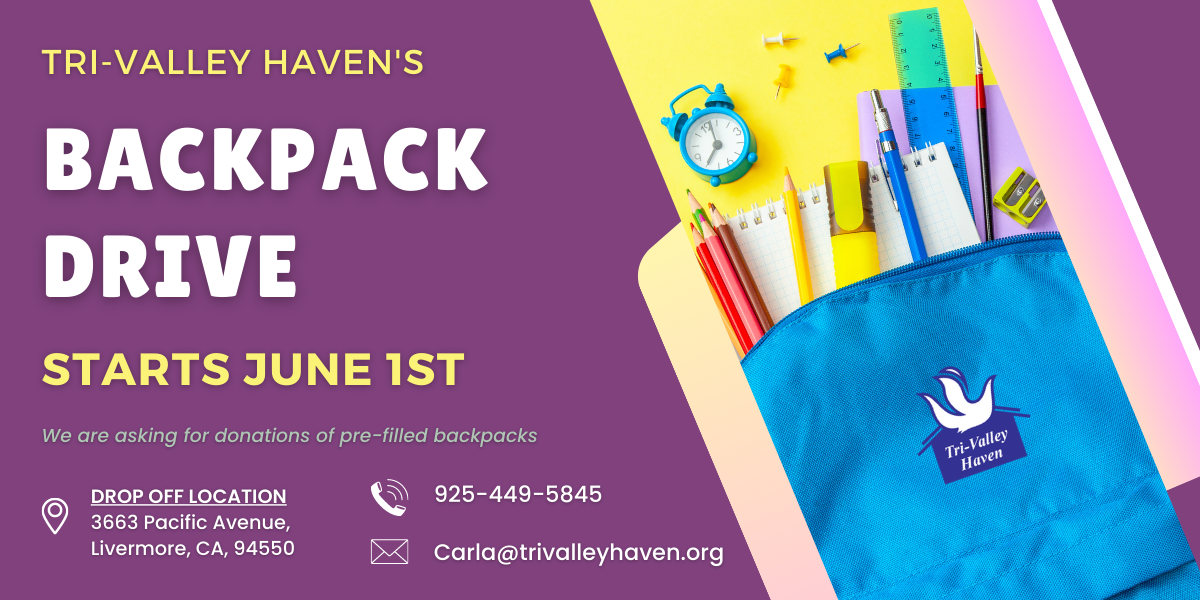 Every year, Tri-Valley Haven distributes over 6oo backpacks to elementary, middle, and school students.
Guidelines
Below is a list of suggested items of backpack supplies separated by school level. These items are merely suggestions and are not meant to be restrictive.
Donations of pre-filled backpacks will be accepted at our community building (3663 Pacific Avenue in Livermore) starting June 1st until July 21st. Our community building is open on weekdays from 9 AM – 5 PM.
For questions, please contact our Director of Homeless Services at Carla@trivalleyhaven.org
FAQs
Can I drop off just supplies or just backpacks?

Yes, but we prefer backpacks with supplies inside ready to go. Please label backpacks by school grade.

Can I volunteer?

Yes, you can volunteer to assemble backpacks that are not filled or you can volunteer on distribution day. If you are not already a volunteer with us, please fill out the application here.

Do I have to use the list featured below?

The supply lists are suggestions of what you can fill the backpacks with – not a mandatory rule.

I am part of a group that would like to host donations for this event.

That's great! Please reach out to Carla to coordinate further at carla@trivalleyhaven.org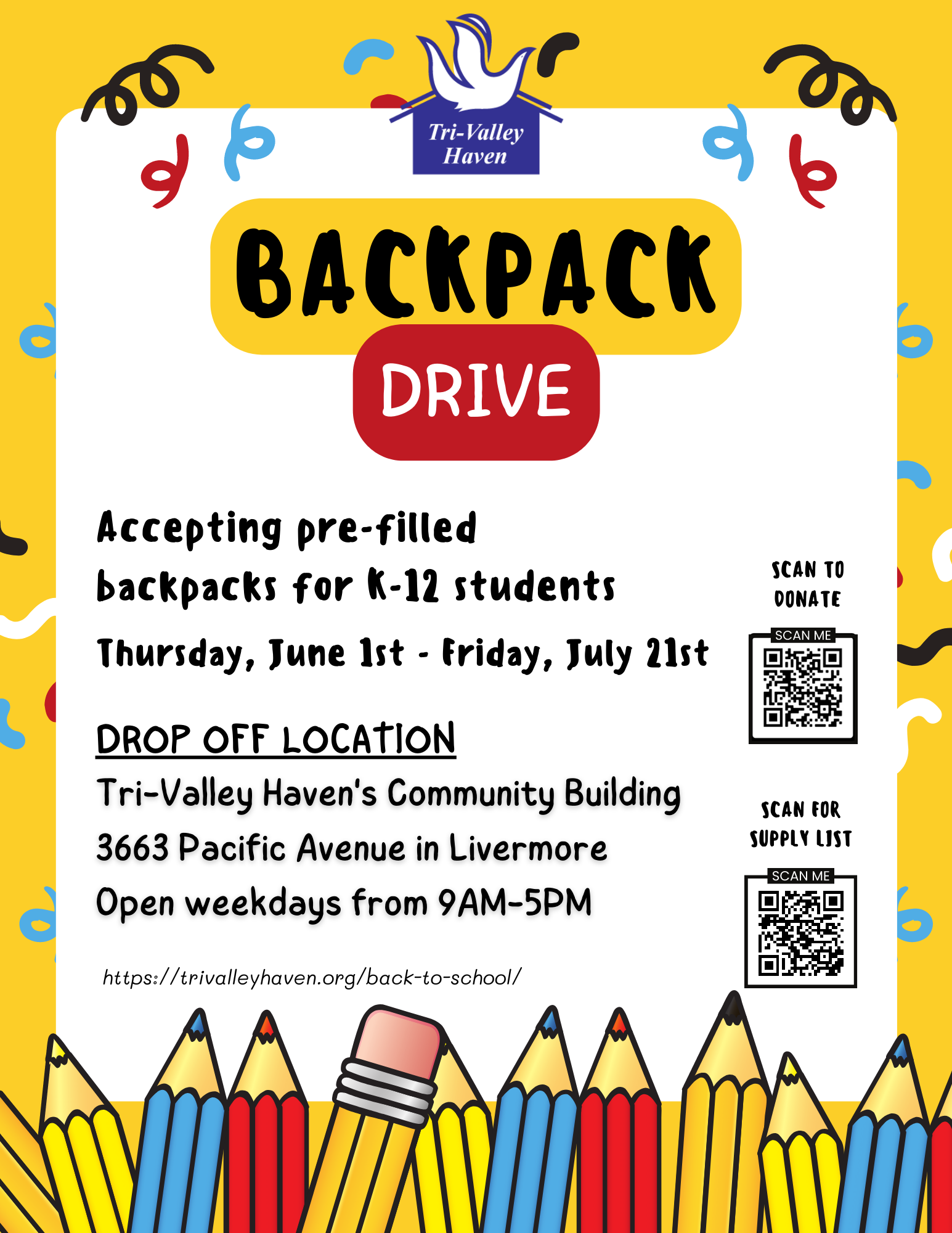 | | |
| --- | --- |
|  1 – Box of Crayons 24/Pkg | 1 – Bottle of School Glue |
| 12 – No. 2 Pencils | 1 – Pkg of Wipes |
| 1 – Pink Eraser | 1 – Bottle of Hand Sanitizer |
| 1 – Package Washable Markers 8/Pkg | 1 – Pair of Blunt Tip Scissors |
| 2 – Glue Sticks |  1 – Pencil Box |
| 1 – Face Mask | 3 – Pocket Folders |
| | |
| --- | --- |
| 12 – #2 Pencils | 5 – Pocket Folders |
| 1 – Box of Crayons 24/Pkg | 1 – Pkg. colored pencils |
| 2 – Glue Sticks | 2 – Pkg Wide Ruled Lined Paper |
| 2 – Pkg Wide Ruled Paper | 8 – Broad Tip Markers |
| 2 – Pink Eraser | 1 – Binder |
| 1 – Package Washable Markers 8/Pkg | 1 – Construction paper, assorted colors |
| 1 – Pair of Blunt Tip Scissors | 4 – Wide Ruled Spiral Bound Notebooks |
| 1 – Pencil Case/box | |
| | |
| --- | --- |
| 12 – #2 Pencils | 2 – 1″ Binders |
| 2 – Pink Eraser | 1 – Pkg. of Subject Dividers |
| 1 – Scissors | 2- Glue sticks |
| 1 – Pencil Case/Box | 1- Face Mask |
| 10 – Pocket Folders | 1 – Hand Sanitizer |
| 2 – Pkg. Lined Paper | 1 – Planner |
| 6 – Spiral Notebooks | 1 pkg index cards |
| 2 – Pack of Pens | Post-its |
| 1 – Ruler | 1 – Wite Out |
| 1 – Pkg.Colored Pencils | Locker padlock |
| 1 – Bottle of White Glue | 1 – Pkg. Washable Felt Markers |
| 1- Pack of Highlighters | |
| | |
| --- | --- |
| 12 – #2 Pencils | 1 – Planner |
| 1 – Bottle of White Glue | 3 – Highlighter Pens |
| 1 – Pink Eraser | 3 – Mechanical Pencils |
| 2 – Pack of Pens | 1 – Pkg Pencil Leads |
| 1 – Pkg. Washable Felt Markers | 2 – Glue Sticks |
| 1 – Pair of Scissors | 1- Face Mask |
| 1 – Pencil Case | 1 – Hand Sanitizer |
| 10 – Pocket Folders | 1 – pkg Index Cards |
| 2 – Pkg. Lined Notebook Paper | 1 – Post-its |
| 1 – 1″ Binders | 1 – Wite Out |
| 1 – Geometry Set | 1 – Locker Padlock |
| 1 – Scientific Calculator | 1 – Pack of Subject Dividers |
| 1 – Ruler | |
Pounds of Food Distributed
Connect with Us
Tri-Valley Haven Community Building:
3663 Pacific Avenue, Livermore, CA 94550
Counseling and Administrative Offices:
925.449.5845
Crisis Line:
1.800.884.8119
"Creating Homes Safe From Abuse"