Tri-Valley Haven will be participating in #GivingTuesday and we need your help!
Our food pantry has been operating from a church parking lot since the beginning of the COVID-19 pandemic. While we were able to safely and successfully distribute food, the need in the community has grown with the massive loss of employment. We recently acquired a larger building to best serve our community, however, TVH will need to convert this new location into a large food pantry where families and individuals in need can receive groceries, dairy, meat, fresh fruits and vegetables, and toiletries.

This #GivingTuesday, we are hoping to raise $10,000 to convert Tri-Valley Haven's new Livermore food pantry site into a bustling locale
that will meet the needs of our community for decades to come. The new pantry site is located on multiple bus routes, making it easily accessible. At the new site, Tri-Valley Haven will offer residents in great need fresh fruits, vegetables, dairy, meat, grocery staples and toiletries free of charge. The Tri-Valley Haven Food Pantry will also be a gateway to our other services, such as shelter, housing, counseling or legal assistance.
This #GivingTuesday join a campaign that will help locally! Please give to Tri-Valley Haven. Thank you for your generosity.

By joining the GivingTuesday movement, you're proving that in times of uncertainty, generosity can bring the whole world together. Here is how you can get ready to give:
Get ready. Mark your calendar with this link.
Give. On November 30, go visit our website under the donation tab to see how you can contribute. You can also support our organization through our wish list or purchasing gifts through Amazon Smile. If you choose to donate to our new food pantry, please enter "Giving Tuesday" in the comment box under the donation amount so we can add your contribution to our interactive thermometer on our website!
Spread the word. Encourage your friends and family to join you in creating real impact on November 30 by sharing what our mission means to you and why you support our organization (here are some ideas). Make sure to use hashtag #GivingTuesday and tag us so we can share!
Let's rally together to build stronger communities!
---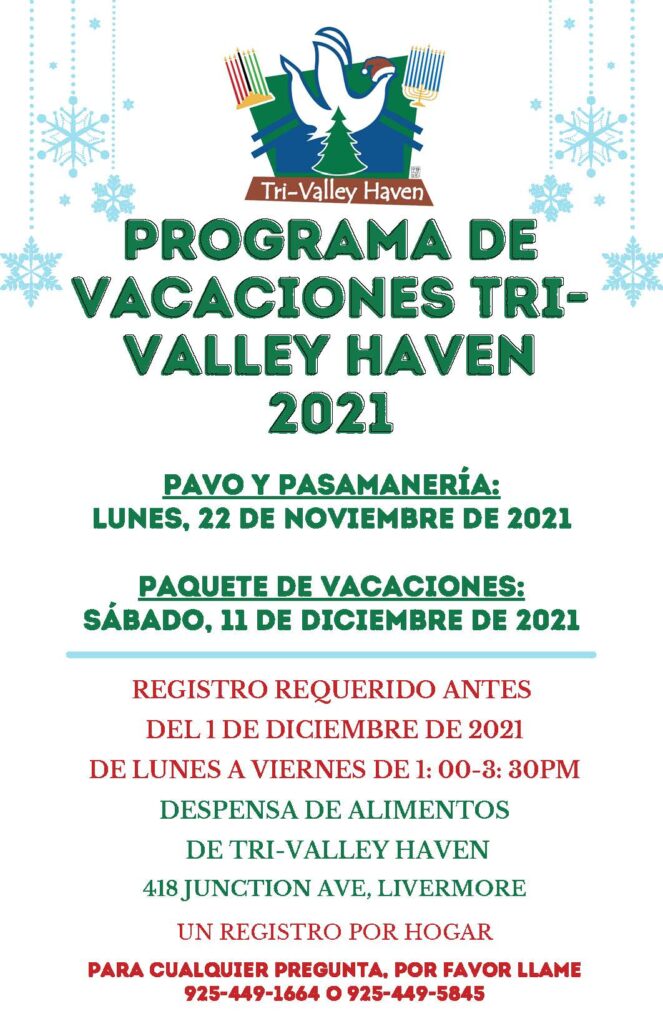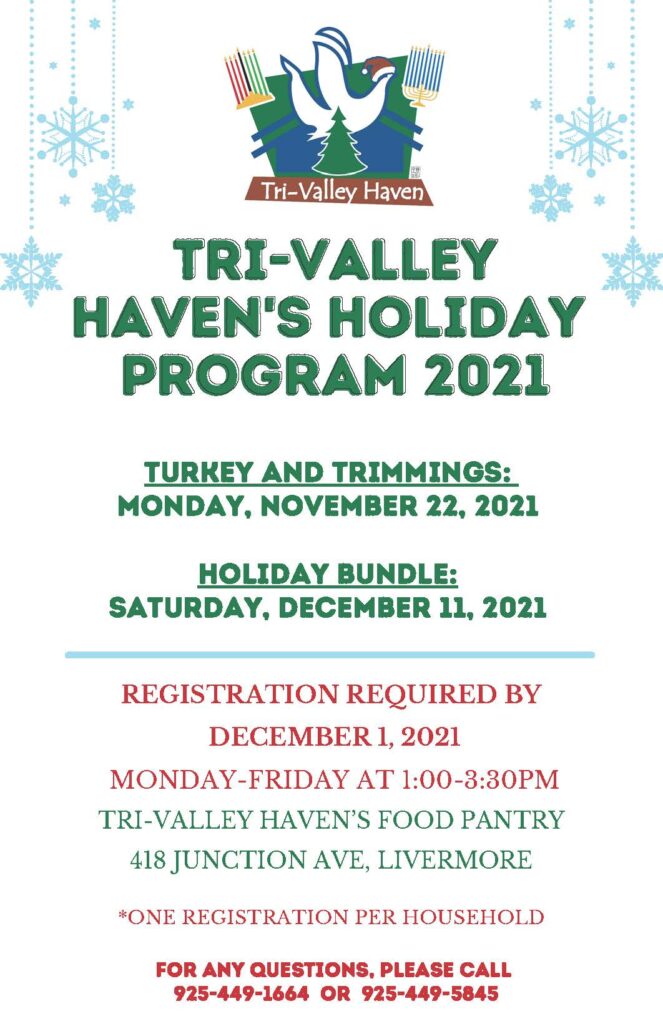 ---
Tri-Valley Haven's Holiday Program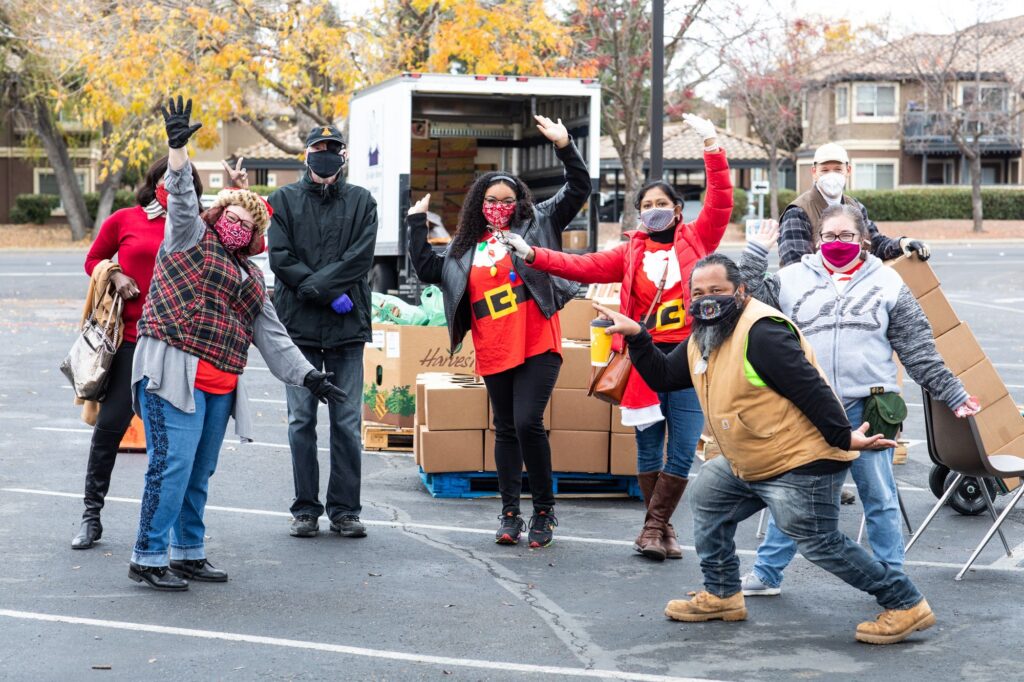 Every year Tri-Valley Haven helps survivors of domestic and sexual violence, low income and homeless families celebrate the holidays by providing them with gifts and food. Our annual holiday program fosters independence and empowerment. This season, we anticipate the Haven's Holiday Program will serve over 3,500 Tri-Valley residents in need by furnishing them with holiday food, a festive stocking and gift cards. We will conduct our program safely by distributing holiday items outside, wearing masks and practicing social distancing.

In order to make this year's holiday program a big success, we are seeking community donations. Cash is the most helpful as it allows us to focus on the program's biggest needs. Tri-Valley Haven is also requesting $20 Target and $20 Safeway gift cards, so families can shop for holiday items of their choice, and stockings (please see flyer here).
Together we can serve all Tri-Valley individuals in need. Thank you for your generous support.
Please drop off or mail donations to Tri-Valley Haven, 3663 Pacific Avenue, Livermore, CA 94550; Attention: Holiday Program. Tri-Valley Haven is open Monday – Friday 9 am – 5 pm. Please contact Christine@trivalleyhaven.org to arrange a drive or if you have questions. We look forward to working with you on this year's holiday project!
---
---
---
---
Sign Up For Our Newsletter – Let's Keep In Touch!
---
Statement from the Bay Area Domestic Violence Shelter and Tri-Valley Haven Collaborative Condemning Ongoing Anti-Asian Violence
Tri-Valley Haven and the Bay Area Domestic Violence Shelter Collaborative stand in solidarity with Asian and Asian-American communities who continue to face unimaginable violence and hate across the country. Since the beginning of the pandemic, we have seen a pattern of anti-Asian violence fueled by the rhetoric of white supremacy movements and legislators from the far right and conservative media outlets who have continued to blame the Asian community for the virus. This rhetoric continues to escalate violence which has resulted in numerous fatalities, disabling injuries and inflicted trauma and fear for the individual victims and the entire Asian and Asian American communities.
Since the mid-1800s, generations of Asian Americans have contributed to the fabric of American society and worked hard to achieve the American Dream. Unfortunately the recent violence is only the most recent manifestation of systemic racism, including the banning of Chinese immigration for 60 years through the Chinese Exclusion Act, the internment of Japanese Americans during World War II, and attacks against South Asians after 9/11. Despite being seen as the perpetual foreigner, Asian American communities have a long history of strength, resilience, and social justice movement building, including in the field of gender-based violence.
Across our country, Asian American women are reporting hate incidents 2.3 times more than men. The hypersexualization of Asian women and historic colonization of Asian countries has created a toxic stew of racism, classism, sexism that normalizes violence against Asian women. This dynamic has often played out privately in situations of gender-based violence – whether domestic violence, human trafficking, or sexual assault – and is now playing out publicly in the horrific events of the last year.
As agencies actively working to end gender-based violence and all forms of violence and hate in our communities against all people, we call on our allies to join us in reaffirming our commitment to peace and justice, to stand and actively speak out and take action when anti-Asian comments, attitudes and hate crimes are being committed and to continue our pursuit of building peace in the family, in neighborhoods, across the country and around the world.