Get HELP
Tri-Valley Haven is dedicated to supporting all survivors of domestic violence, sexual assault and homelessness, regardless of sexual orientation, gender identity, race, age, religion, creed or disability. The Haven assists clients as they grow, heal and move positively forward in body and soul.
 Tri-Valley Haven offers a myriad of services including restraining order assistance, counseling groups, financial assistance for survivors, groceries, and more.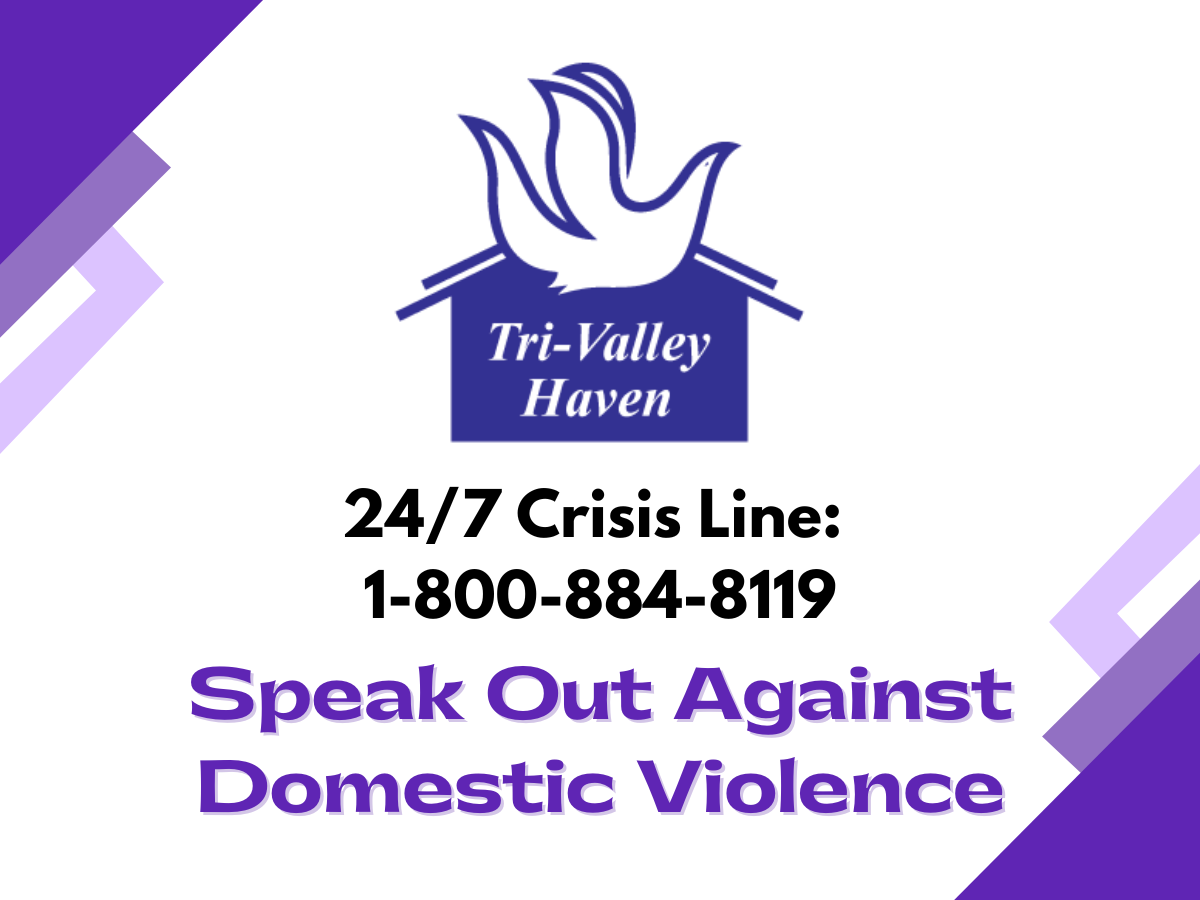 Domestic Violence Services
If you are in immediate danger, call 911 right away. If you are not in immediate physical danger, but are in a threatening or abusive environment and would like to talk to someone, you may call Tri-Valley Haven's 24-Hour Crisis Line anytime, day or night at 925.449.5842 or 1.800.884.8119.
sexual assault services
No one deserves to be sexually assaulted or abused ever. If you have experienced sexual assault, it is not your fault and you are not alone. Tri-Valley Haven is here to help.
Counseling and support groups
Tri-Valley Haven offers a variety of counseling and support group services in the belief that while healing is the necessary first step in re-building broken lives, more help must be made available to empower people to regain their sense of self, their sense of pride, and their sense of accomplishment.
Homeless services
Tri-Valley Haven offers services for individuals and families who are homeless or in severe economic need, including shelter, a food pantry, and transitional housing. The Haven works to empower individuals effected by poverty so they can be self-sufficient and graduate into stable, permanent housing.
For Teens
Dating violence is more common than you may think, especially among teens and young adults: 1 in 3 U.S. teens will experience physical, sexual, or emotional abuse from someone they're in a relationship with before they become adults. And nearly half (43%) of U.S. college women report experiencing violent or abusive dating behaviors.
Food Pantry
Each month, we provide free groceries, including fresh produce, to well over 4,000 residents. Our Food Pantry is utilizing the "client choice" model which empowers food pantry clients to pick food that is appropriate for their family's dietary needs.
Address: 150 N L Street, Livermore, CA     |    Phone: 925-449-1664
Email: Reney@trivalleyhaven.org
Financial Assistance
Assistance may be available for survivors of domestic violence and formally incarcerated survivors of sexual assault. Assistance may include overdue rental payments, utility bills, and/or assistance with other expenses necessary for an individual's self-sufficiency (e.g., car repairs, gas/food gift cards, etc). Applicants must be in the immediate Tri-Valley Area (Livermore, Dublin, Pleasanton).
Please email your completed forms to the Housing First Case Manager, Max, at maxwell@trivalleyhaven.org
Tri-Valley Haven Haven's Restraining Order Clinic assists survivors in applying for Temporary Restraining Orders (Protective Orders). This can be a useful tool for a victim's safety from their abuser. Tri-Valley Haven staff helps people every step of the way in the process of obtaining a restraining order, from the paperwork to accompanying a survivor to court. All of these services are free of charge for survivors. Tri-Valley Haven offers Drop-in Restraining Order Clinics. No appointment is necessary. 
Tuesday, 5:30 PM – 7:00 PM, Tri-Valley Haven Pleasanton Office 4460 Black Avenue Ste. M, Pleasanton, CA
Thursday, 2:00 PM – 4:00 PM, Tri-Valley Haven Community Building 3663 Pacific Avenue, Livermore.
** For more information about the Restraining Order Clinic, please call our Legal Services Advocate at (925) 449-5847 x2606 or email Kimberley at kimberley@trivalleyhaven.org.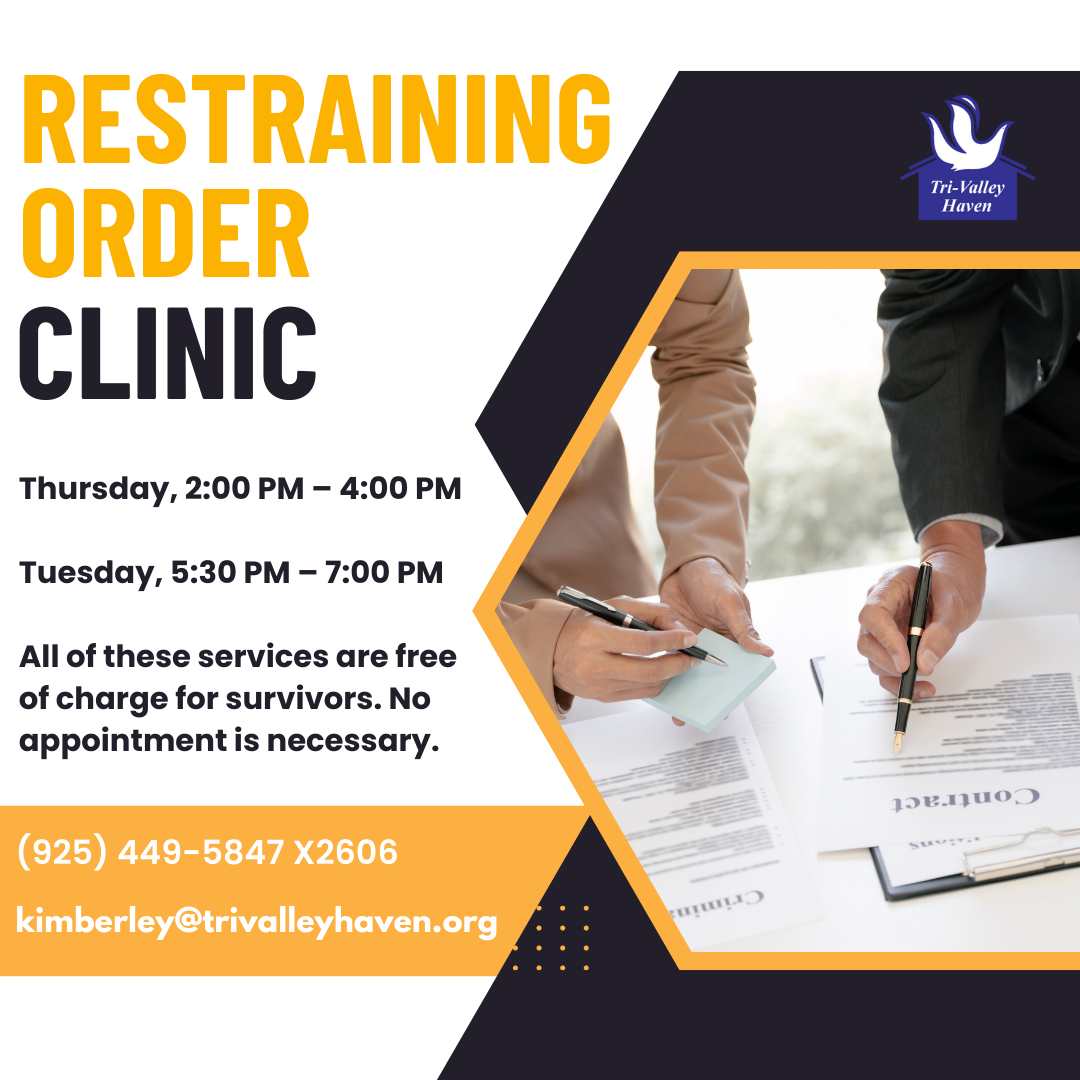 Pounds of Food Distributed
Connect with Us
Tri-Valley Haven Community Building:
3663 Pacific Avenue, Livermore, CA 94550
Counseling and Administrative Offices:
925.449.5845
Crisis Line:
1.800.884.8119
"Creating Homes Safe From Abuse"