Our Mission: Tri-Valley Haven creates homes safe from abuse, contributes to a more peaceful society one person, one family, one community at a time. Together, we build a world without violence.
Spring Pace For Peace - Early Registration Open!
Early registration is open! Spring Pace For Peace 5K/10K Run/Walk is Saturday, April 23! The race starts at 8:00 am at Tri-Valley Haven, 3663 Pacific Avenue, Livermore.
This event benefits Tri-Valley Haven's life-saving services for families who have experienced domestic violence, sexual assault, homelessness and hunger.
Register early to save $5! Please click this link to register for Spring Pace For Peace on RunSignUp.com.
---
One Billion Rising on Feb 16 in Downtown Livermore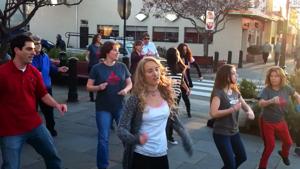 Join us for One Billion Rising in Downtown Livermore this year! One Billion Rising is an opportunity to spread awareness about violence against women around the world through dance. Our flash mob will be RISING on Tuesday, February 16th at 5 pm next to Panama Red Coffee!
Want to join our flash mob? Click here to learn the dance! After you learned the moves, watch our performance last year for inspiration!
Come and dance with us!
---
Self-Defense Class For Women on Feb 27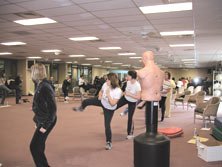 Sign up for Tri-Valley Haven's Self-Defense Class for Women on Saturday, February 27th from 10 am - 1 pm at Las Positas College, 3000 Campus Hill Drive, Livermore! This class is recommended for ages 14+.
To sign up, please click this link to register on the Las Positas College website.
---
February is Teen Dating Violence Awareness Month
Want to get involved this month? Check out Tri-Valley Haven's "For Teens" page! Educate yourself about teen dating violence stats! Make a donation to support Tri-Valley Haven's services for survivors of all ages!
You can also take stand against dating violence by posting a photo of yourself with our "Take A Stand Against Teen Dating Violence" Pledge on social media. Be sure to tag your post as #TDVAM and #trivalleyhaven!
---
Domestic Violence & Sexual Assault Support Groups
Are you currently in or have you previously been in an abusive relationship? Are you the survivor of a sexual assault? Do you feel alone, confused, and scared? Many survivors of domestic violence and sexual assault have similar feelings. Tri-Valley Havenís support groups are here to help.

Domestic Violence Support Group will meet on Fridays from 1:00 Ė 2:30 pm in Downtown Pleasanton. The group runs for 8 weeks and is slated to start on February 19th. This is a closed support group. To sign up or learn more, please call Liz at Tri-Valley Haven at (925) 449-5845 X2718.

The Sexual Assault Support Group will meet on Wednesdays from 5:30 - 7:00 pm in Livermore. The group is scheduled begin their 8-week course on February 17th. This is a closed support group (no drop-ins). To sign up or learn more, please call Amanda at Tri-Valley Haven at (925)449-5845 X2797.
---
Tri-Valley Haven is Hiring!
Are you interested in supporting survivors of domestic violence, sexual assault, homelessness and hunger? Are you looking for a positive, affirming work environment? Are you dedicated to creating a safer community?
Tri-Valley Haven is hiring! Please click this link to view Employment Opportunites on our "About Us" page.
---
Become A Food Pantry Volunteer!
Tri-Valley Haven needs volunteers for our Food Pantry in Livermore. We need volunteers Monday - Thursday in the mornings from 9:30 am - noon and Thursday evening from 5 - 7 pm in Livermore. Make a difference with Tri-Valley Haven by volunteering your time!

To sign up or for more information, contact our Volunteer Coordinator, Lynne, at (925) 667-2711 or lynne@trivalleyhaven.org
---
Special Thank You to Enid Sanders, Ph.D!
We also want to extend a special "thank-you" to Enid Sanders, Ph.D., a clinical psychologist with a practice in Pleasanton! She generously donates the use of her office for some of our group and individual counseling sessions. Her own practice works with adolescents, individuals, couples and women in transition. To contact her for more information or to schedule an appointment, call her office at (925) 846-6782 or visit her website at www.enidsandersphd.com
---
Haven Thrift Store - Shop or Donate!
A true treasure hunter's delight awaits you at the new and improved Tri-Valley Haven Thrift Store. Tri-Valley Havenís sparkling thrift store sells items at great prices and all proceeds go to Tri-Valley Haven programs! With beautiful recent upgrades like new flooring, lighting, racks and more, the Haven Thrift Store is clean, bright, stuffed full of amazing bargains, and ready to serve the community. You can benefit our services either by shopping here, or donating here. It's a win-win proposition.
The Haven Thrift Store is is located at 116 North L Street in Livermore California, 94550. To contact the store by phone, please call (925) 449-1177. Store hours are Monday - Saturday, 10:00 AM - 5:00 PM. Donations accepted between 11:00am-3:00pm only.
---
Does your workplace participate in the CA State Employees Charitable Contributions (CSECC) or United Way campaign?
Are you interested in helping Tri-Valley Haven? If YES, please write in the following donation on your annual campaign form:
Tri-Valley Haven
3663 Pacific Ave
Livermore, CA 94550
Tax ID: #94-2462357
Your designation of an automatic tax-exempt deduction of a small (or large) amount from your monthly paycheck will be given to Tri-Valley Haven! Help us to create homes safe from abuse, to contribute to a more peaceful society. Together we can build a world without violence.
---
Other Ways to Keep up with Tri-Valley Haven
Tri-Valley Haven is all over the web! If you like your news in small doses, you can follow us on our Twitter account. Our Facebook Page has an up-to-date account of where we are, what we're doing, and how you can make a difference, as well as some great images from our events! You can email us to sign up for Haven Happenings, our twice-a-month e-newsletter, and our blog, Tri-Valley Haven Blogger, encourages you to share your thoughts with us as we go more in-depth into the news, our mission, activism, and thoughts. Drop by one or all of our many ways we keep in touch, follow us, and we will keep you in the loop!
Welcome to our website,
courtesy of a service grant by Taproot Foundation!